The Forex Trading Coach
Andrew Mitchem is The Trading Forex Coach… and this was the course that turned my trading around and enabled me to become a consistent successful profitable forex trader.
Andrew has developed his own trading course with his own systems and strategies from his years of trading in the forex industry. Andrew has trained many students, like me, from all over the World and continues to be a well-known and a respected figure in the world of currency trading.
The review that I have written is from my own experience of taking the course and implementing the strategies that I learned. Andrew, as my mentor and his, "The Forex Trading Coach Online Course" is what helped me to understand what I was doing wrong and what I should be doing to trade in this industry. I nearly passed up on paying for another course after not having success with two other more expensive courses, but I am glad I continued to search for the answer and I am eternally grateful to Andrew and his team for helping me.
Enjoy the review and feel free to shoot me an email at jalbytrades@hotmail.com if you wish to converse further about TFTC course or forex in general. I am passionate about trading.
---
Website: www.theforextradingcoach.com
Owner: Andrew Mitchem
Training Course Price: Normal Cost $2497 Use the code JALBY or mention that I sent you and get $100 off the course. (not applicable with other promotions)
Ongoing Membership Price: Yes 3 monthly $197, 12 monthly $597
(first year everything is included in the cost of the initial course and you don't need to re-sign after this. No pressure to join, but most people do when they realize the benefits and value)
My Score: 10/10, 5 Stars forever
Who it's for: Newbie, Struggling Traders, and Traders about to give up on trading
If you don't want to read the whole review, I have added a video of Andrew explaining the course and what's inside the course dashboard. The site has been re-vamped and looks a little different now, with a few add on improvements but you will get a sneak peek. It goes for about 11 minutes. To go to his website just click on the join button below the video.
---
So what do you get…
Here is what the dashboard looks like now once you sign up…
Very easy to navigate from section to section by clicking on the icons or using the tabs at the top of the page. Here's a list.
Easy to follow and highly effective trading system for identifying opportunities based on price action
Easy to follow training videos in the membership area
Immediate access to membership site
Andrew's custom indicators developed by him from his years of experience in forex
A download section where you will find valuable documents on how to set up a trading journal and many other items as well
Daily trading recommendations and market analysis
Weekly live trading room webinars, where you trade with Andrew personally taking live trade's plus more
Unlimited follow up and support
Private membership to TFTC forum only for member's
One on one training (this is extra and billed separately)
Discounted price to Andrews newly developed TFTC Pattern Trader Auto Bot as a member.
---
So what will you learn…
With all the access to the course modules this is what you will learn about this great industry.
How to understand the markets
How to use the custom indicators to identify high probability trade's
The money earning strategies that have been working since before 2010 consistently
When and where to enter a trade and were to exit the trade with a predetermined target
Learn controlling your emotions and your psychology within the weekly webinars
Correct and proper Money Management
and many other tips and hints from experienced member's in the dedicated forum
---
Trading System…
Andrew's trading system which is taught in his training videos of approximately 270 minutes, covers all you need to know about how to set up charts, when to trade, times to trade, how to identify high probability trade's, how to use his custom indicators and what the price action is trying to tell you. The videos explain the whole strategy in detail, step by step in a logical order easy for anyone to comprehend.
The system Andrew teaches is being used by traders in over 88 Countries around the world to date, every day and can be used on any currency pair.
I can't go into details of the strategy as it is only revealed once you sign up for the course. The strategy is designed for people that are totally new to forex trading and not knowing a thing about the industry and, to people that may have been trying their hand at forex for a while with no joy. That was me. That strategy works on time frames that suit your life circumstances while you are working. Can be traded part time.
---
Andrew's Unique Software…
The course includes Andrew's developed custom indicators for the study of:
Price action patterns,
Candlestick analysis,
Support and Resistance,
Pivot Points, Bollinger Bands,
Trend Lines, Divergence,
Extensions and Retracements,
Money Management and
Reward:Risk
The software recognises and identify s Candlestick patterns and helps to pin point entry and exit levels for all time framed charts. A position size calculator is provided for calculating correct money management so that you don't oversize your trading positions within your account balance. You are taught how to use this properly. This alone is fantastic as you will always know how many dollars you are risking on every trade before you even take the trade.
Learning to use the indicators enables traders to quickly identify if a trade is setting up and with rules and steps to follow traders are able to decide on how high of a probability the setup may be. Andrew and Paul Tillman, a former member and now mentor, continual teach member's through the weekly live webinars with live interaction question and answers so that the identifying setup structure becomes second nature in your trading.
It all might seem daunting when you see the whole list but once you follow the easy to understand course you will grasp the concepts quickly and easily filter out low probability trade setups.
---
Daily Trade Recommendations…
The course includes Andrew's Daily Trade Recommendations on Day Charts to help you learn the system. The trade calls give exact entries, stop loss and exit targets for the currency pair selected with a high probability of success. Andrew believes you will learn faster if you can see how you can earn as you progress through the training. If you do nothing else and just followed these calls you will make a handsome yearly return in its self. Andrew's calls have averaged over 26.51% since 2010 with his best year hitting 97.95% and the worst year 3.14%. All with just the daily time frame chart. These returns are a lot better than your retirement fund earnings or any bank account interest and these are just on the daily time frame charts, we trade other time frame charts as well.
You will also get Andrew's recommended currency pairs directions that he is favouring for the day for making short time frame chart trades with the same strategy for the daily trades suggestion. All in the course lessons that you will learn.
You will have access to these daily trade recommendations right from day one when you sign up for the course. So, it's just a matter of earning as you learn, helping you to get your investment back while you learn the course.
---
Weekly Live Trading Room Webinars
The Weekly Live Trading Room Webinars are at different times for each week. One week for the European Session and the next week for the US Trade Session. This is new; it used to be every 2 weeks when I did the course so this is actually a bonus for new members.
Weekly access for members only, for 2 hours of live trading with Andrew himself for one week and Paul, (in the US session time), on the alternating week. Everyone discusses possible trades to take and actual live trading. Members can ask questions with Andrew and Paul going over continual learning and training and tackle specific topics that members ask throughout the week with email questions.
Psychology or how a trader reacts in trading is a really important topic in here and this will help you immensely, like it did for me. The webinars alone can be highly profitable for everyone when they attend as sometimes we are able to take anything from 1 to 6 trades within the webinar. Sometimes there are no trades as well.
The webinars are recorded so you never miss out on learning about trades and seeing trades actioned and taken if you are unable to attend. The webinars are also archived so you can go back and search them anytime all the way back to 2010.
---
Ongoing Support and Help…
Andrew, Paul and Mhel are always available by email and live chat. Andrew will answer every email personally himself and I can attest to that as I have emailed him many times. I still have all the communication in my email AM folder that I keep. You can also submit a support ticket for Mhel, the fast and first class techie for software or custom indicator set up. This is all done for you right at the start of your course anyway but should an issue arise Mhel is right on it very quickly.
With Andrew and Paul answering email themselves, it not only shows and proves that they care about their members, but they do and help as much as possible to help them succeed.
---
Private TFTC Members Only Forum…
This is a feature that started in 2019 and only exclusive to members. The forum always has someone online from all over the World with people posting their trade calls for confirmation from more experienced members and asking questions about any of their concerns. We help each other to identify high probability trades for everyone to take if they like. I am there nearly every day but don't post as much as there are many great traders willing to help.
---
One On One Training…
Andrew has a section on the membership site, under the subscription tab, where if you would like further help with the course you can sign up for a One on One Online Training Session. This is normally with Paul and he will take you through the course and answer questions and queries through a series of private one on one webinar sessions. Each one is recorded and you can go back and view them as many times as you need. This is an extra charge from the actual course and billed separately.
---
TFTC Pattern Trader Bot…
Andrew and his team have just recently developed an Auto or Semi-Auto Trading Algorithm Bot. I won't go into it here as I have a dedicated article about this unique software and you can read about it HERE.
The TFTC Pattern Trader Bot is already showing impressive returns and is not only available to members but anyone that is interested in Auto or Semi-Auto trading is welcomed to apply. Members get the added benefit of a cheaper price to have access but it is still very affordable for anyone to sign up with.
---
Everything Included…
Everything in the sections above are included when you purchase the training course for the first 12 months, except the TFTC Pattern Trader Bot and the One on One Training Sessions, these are separate and billed accordingly.
If you wish to continue after the 12 months you can pay for an extra 3-month subscription or another 12 month subscription and it is heavily discounted from the original course price. Most people sign up because they see the benefits of the trade calls and weekly webinars alone and I can also tell you that trading can be a lonely business once you get it all right.
Staying on and being a part of the forum with like-minded people that are using the same strategy is great for bouncing ideas off each other. Sometimes people see points that you may have miss and sometimes you can add your comment and opinion on what you see to help others. Sure you can join other forums but I think its better to trade with like-minded people that are using the same system and strategy. Some members that live in the same area get together and go over trades socially.
---
Some Results…
Before summarizing I have attached some images of Andrews, The Forex Trading Coach results. All of these are in the members area and updated each month after the month ends. If the images are too small, just right click on them and open them up in a new tab for zooming.
First is a graph showing a $100,000 investment in January 2011 with and without monthly compounding from the members area of The Forex Trading Coach website.
These are trade's only risking 0.5% of the account balance on each trade. An excellent Reward:Risk money management and you will learn all about this in the course.
Next will be screen shots of Andrew's pdf yearly results by months for 2010 to current end of June 2020. Every trade ever taken is kept and saved in an archive and any member can go back check and verify the trade calls were made at that time. Nothing is hidden.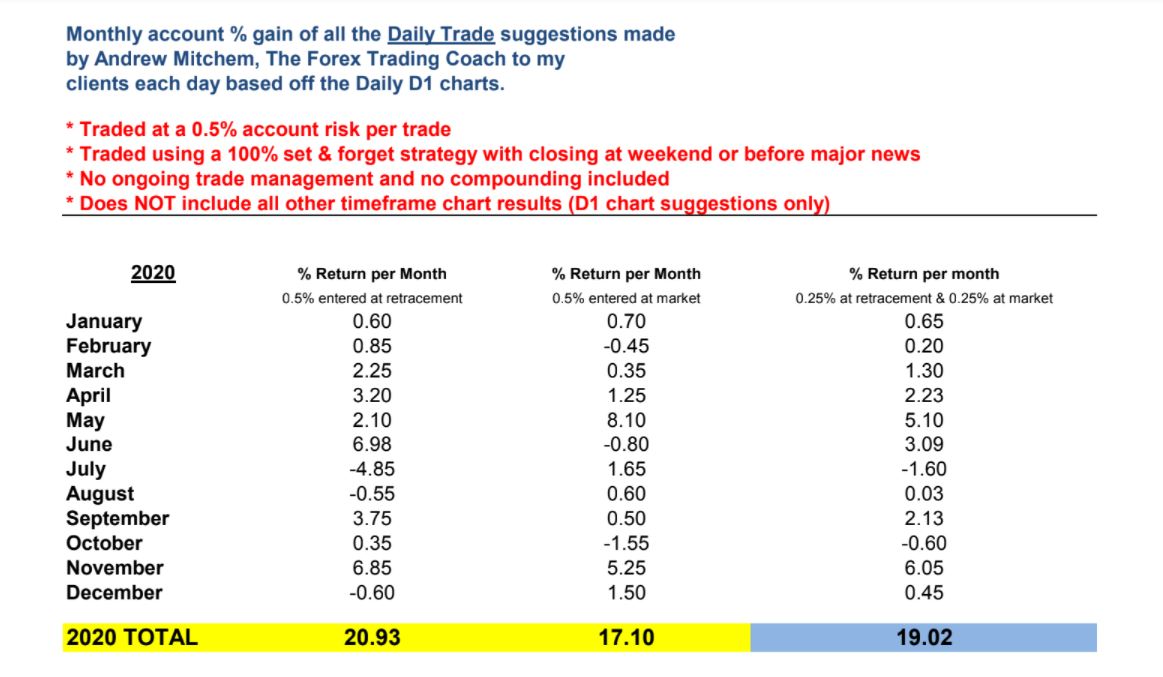 ---
These are from Daily Trade Recommendations posted everyday on the member's area for any member to follow as they wish. Andrew and Paul select the highest probability trade's but there are days when there are no trade's suitable so patience is the key for waiting for the right trade. There are a lot more trade's to take on different time frames after you learn the system strategies. Invariably the % returns of other experienced traders can be greater but if you only took Andrew's daily calls these are the results.
Since 2010 with an average of 26.51%…
Now that is a very good return just on one time frame. Don't forget, we trade on other chart time frames so the returns are actually higher. Below are some trade results for April/May 2020 taken by the TFTC Pattern Trader Bot that uses the same strategy but a little more aggressively.
Here you will see that there are losses but take note of the size of the losses against the winning trade's. This is where learning proper, correct Money Management is key to becoming a successful forex trader.
Again if the image is too small then right click on it an open in a new tab for expansion.
---
Money Management The Right Way…
With Andrew's TFTC course you will learn correct Money Management. Learning correct and proper MM means that you don't need to high % of winners. Learning correct and proper MM means your losing trade's amounts are smaller than your profitable trade's meaning….
that you will make money!
Overall I think you get the picture…
---
In Summary…
Andrew Mitchem and his, The Forex Trading Coach Course, is the course that changed my life and my family's lives forever. It was the course that put everything together for me and I can't see why it can't do the same for any other person wanting to enter the forex trading industry.
Andrew's TFTC course covers these points and you will learn:
How to understand the markets
How to use the custom indicators to identify high probability trade's
The money earning strategies that have been working for over 11 years consistently
When and where to enter a trade and were to exit the trade with a predetermined target
Learn controlling your emotions and your psychology within the weekly webinars
Correct and proper Money management
and many other tips and hints from experienced member's in the dedicated forum
All of these are available to you when you join the TFTC Online Course. You will have access to the course and course video forever, even if you don't sign up for the yearly membership.
---
Now, I don't need you to believe me but I implore you to contact Andrew yourself and tell him that John (Jalby my forum user name, he will know who I am for sure) put you onto him and his course and he will talk you through on what you need to do. You don't have to start with a big amount of money for your first account but once you get the confidence, consistency and winning habit routines, you can add to your account or just let it grow. Use the code JALBY to get $100 off the course.
Invest in yourself and make this the last Forex Trading Course that you will need to take. It was for me. Click the join button below.
Happy trading and feel free to leave a comment or shoot me an email at jalbytrades@hotmail.com if you want to touch base.
Regards John